BNEF London Summit: SOFAR Storage Solutions Ready to Take European C&I Market to the Next Level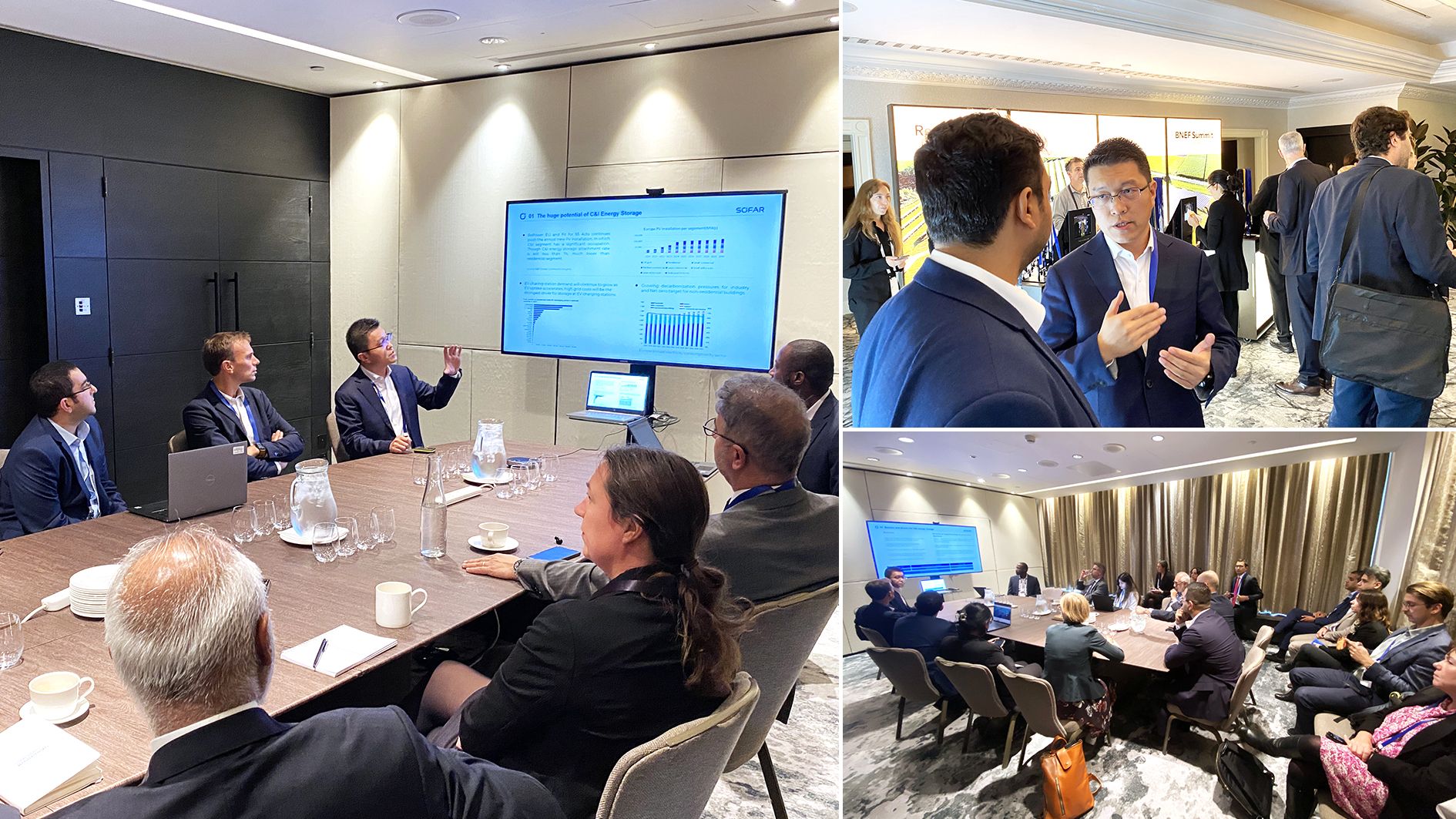 London, October 12, 2023 – SOFAR, the global leading provider of all-scenario PV & ESS solutions, recently attends the BNEF London Summit. Together with BloombergNEF, both parties jointly hold the roundtable "Exploring Possibilities and Overcoming Barriers: C&I Energy Storage in Europe", where industry experts exchange perspectives on C&I energy storage in Europe.
In today's dynamic energy landscape, the integration of energy storage with renewables has emerged as a critical element in achieving carbon neutrality, with hurdles that need to be overcome to fully unlock its potential. As one of the key players in storage sector, SOFAR is in full swing to tackle these challenges with its advanced solar + storage solutions. This year, the company has launched microinverter system PowerNano, C&I ESS PowerIn and PowerMagic and fully self-developed utility ESS PowerMaster, marking a milestone of SOFAR's comprehensive range of all-scenario PV & ESS solutions covering residential, C&I and utility applications.
Especially, there has been a significant increase in the demands for energy storage solutions in C&I installations in Europe, and SOFAR PowerIn rises to the proper time. Designed for small-scale C&I projects, the DC-coupled solution features pack-level active balancing, which increases the usable battery energy by 5% and can maximize the rooftop value for end-users. Consisting of PV inverter, battery optimizer and BESS, PowerIn is suitable for business owners and building owners with existing solar installations. When it comes to larger C&I projects, SOFAR PowerMagic is a perfect fit with modular design supporting PCS parallel connection and flexible system expansion, as well as lower LCOS by virtue of the compatibility with 320Ah cells. The AC-coupled solution is also equipped with 3+2 safety system, which ensures more stable operation and a longer service life.
During the roundtable, Allen Cao, Head of SOFAR Europe, discusses the role of C&I storage in facilitating Europe's ambition in a net-zero era. Meanwhile, Cao shares his insights on SOFAR's performance in Europe in the interview. "Looking to the future, we intend to keep exploring technological possibilities in residential and C&I ESS and working on optimizing localized and professional sales service team, impelling the renewables adoption and energy autonomy in Europe," he said.
SOFAR is a global leading provider of all-scenario solar and storage solutions and committed to be the leader of digital energy solutions with a comprehensive portfolio, including PV inverters, hybrid inverters, BESS, utility ESS, microinverter system and SOFAR Monitor smart energy management system for residential, C&I and utility applications. By 2021, SOFAR entered the TOP5 Global Hybrid Inverter Brands, establishing a global R&D network with three R&D centers and two manufacturing bases. In 2022, SOFAR annual production capacity reached 10GW for inverters and 1GWh for batteries. By 2022, SOFAR has shipped 18GW+ inverters to 100+ countries and regions worldwide.
Learn more: https://www.sofarsolar.com/