SOFAR's Commitment to PV & ESS Innovations is Spotlighted at Solar & Storage Live 2023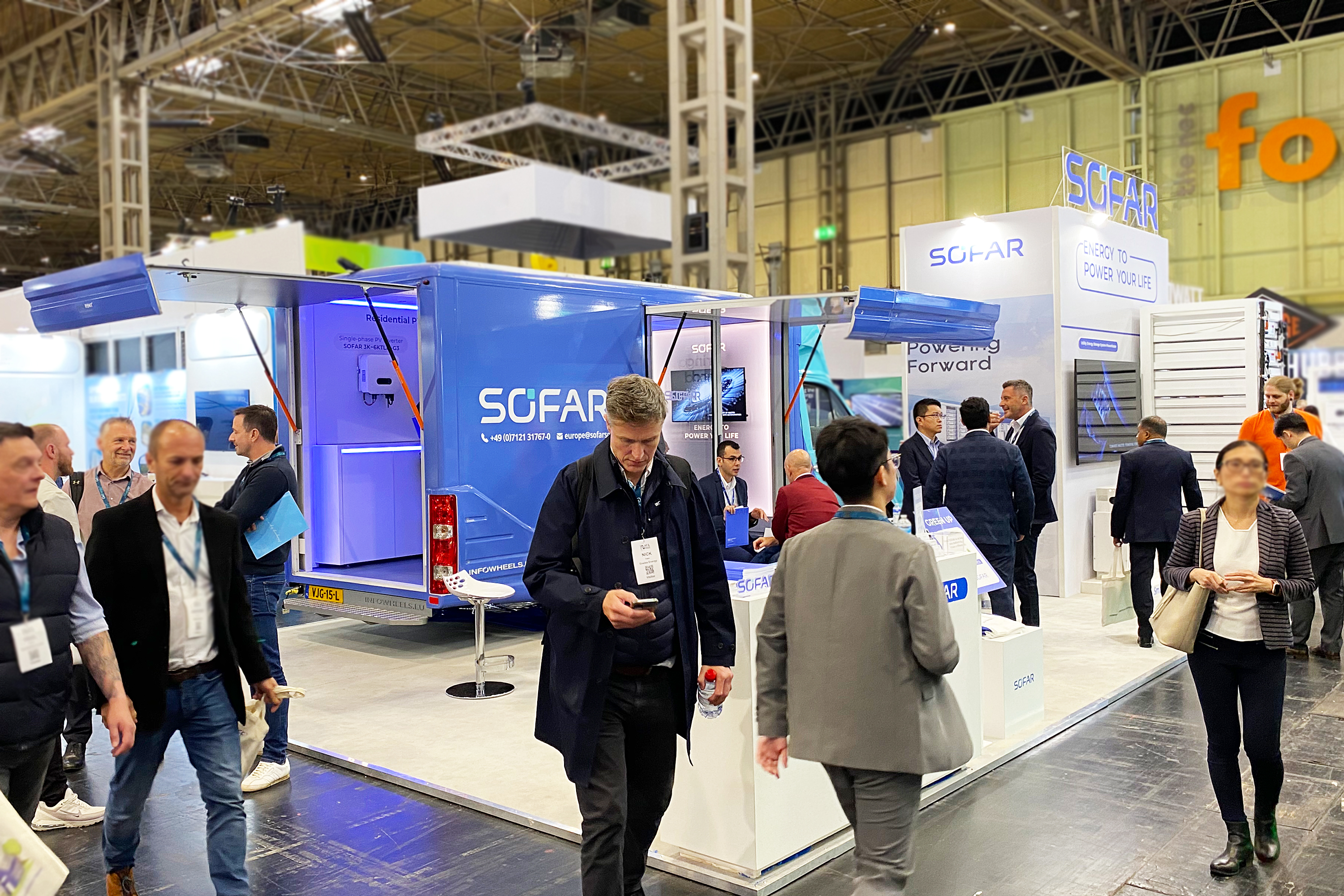 Birmingham, October 19, 2023 - SOFAR, the global leading provider of all-scenario PV & ESS solutions, displays its flagship product portfolio with a focus on residential and C&I storage solutions at Solar & Storage Live, the United Kingdom's most prominent renewable energy fair.
Energy storage market is estimated to be scaled in many European countries, considering that it provides system flexibility which is particularly needed in the EU's electricity system, where the share of renewables is skyrocketing. To address this concern, SOFAR brings the revolutionary utility ESS PowerMaster to the audience. Its innovative hybrid cooling system consists of both air and liquid cooling system, which can reduce heat dissipation loss by about 30% and help extend the battery lifetime by 14%. Upholding strict safety priorities, the PowerMaster is equipped with 3+2 safety systems to ensure stable power supply day and night. With the modular design capable of expanding single chamber storage capacity up to 3.93MWh, it perfectly satisfies the diverse needs of capacity expansion and significantly minimizes the initial investment cost and enables higher yields.
Apart from tried-and-tested storage achievements, SOFAR also introduces its PV solutions with SOFAR 110-125KTLX-G4 leading the show. Integrating industry-leading ultra-high current, easy installation and intelligent protection, it's been recognized by global customers as an ideal solution optimized for C&I and small-scale utility installations. Featuring 10*40A MPPTs, the inverter significantly ensures lower LCOE and higher yields. And a weight less than 75kg makes it easier to install, saving expensive labor costs. Meanwhile, it is also available for AFCI and I-V curve scanning, and has IP66 overall protection along with C5 anti-corrosion, which is resilient to harsh working conditions.
Meanwhile, SOFAR enriches its storage solutions with HYD 5-10KTL-3PH-G4 and all-in-one residential ESS PowerAll as well. Equipped with advanced features, including flexible battery capacity expansion and a smart battery management system, it has been one of SOFAR's most popular choices for households to effectively lower their energy bills.
"Since we entered the UK market, the team have been consistently pushing the boundaries of innovation by releasing microinverter system PowerNano, C&I ESS PowerIn and PowerMagic tailored for Europe's focus in residential and C&I applications." said Allen Cao, Head of SOFAR Europe, "You may notice, we are also launching our roadshow in the UK and Ireland after the exhibition. I'm convinced that through what we demonstrate, SOFAR can deliver the energy freedom to more European households."
SOFAR is a global leading provider of all-scenario solar and storage solutions and committed to be the leader of digital energy solutions with a comprehensive portfolio, including PV inverters, hybrid inverters, BESS, utility ESS, microinverter system and SOFAR Monitor smart energy management system for residential, C&I and utility applications. By 2021, SOFAR entered the TOP5 Global Hybrid Inverter Brands, establishing a global R&D network with three R&D centers and two manufacturing bases. In 2022, SOFAR annual production capacity reached 10GW for inverters and 1GWh for batteries. By 2022, SOFAR has shipped 18GW+ inverters to 100+ countries and regions worldwide.
Learn more: https://www.sofarsolar.com/