SOFAR Advances India's Pace in Clean Transition with PV & ESS Innovations at REI 2023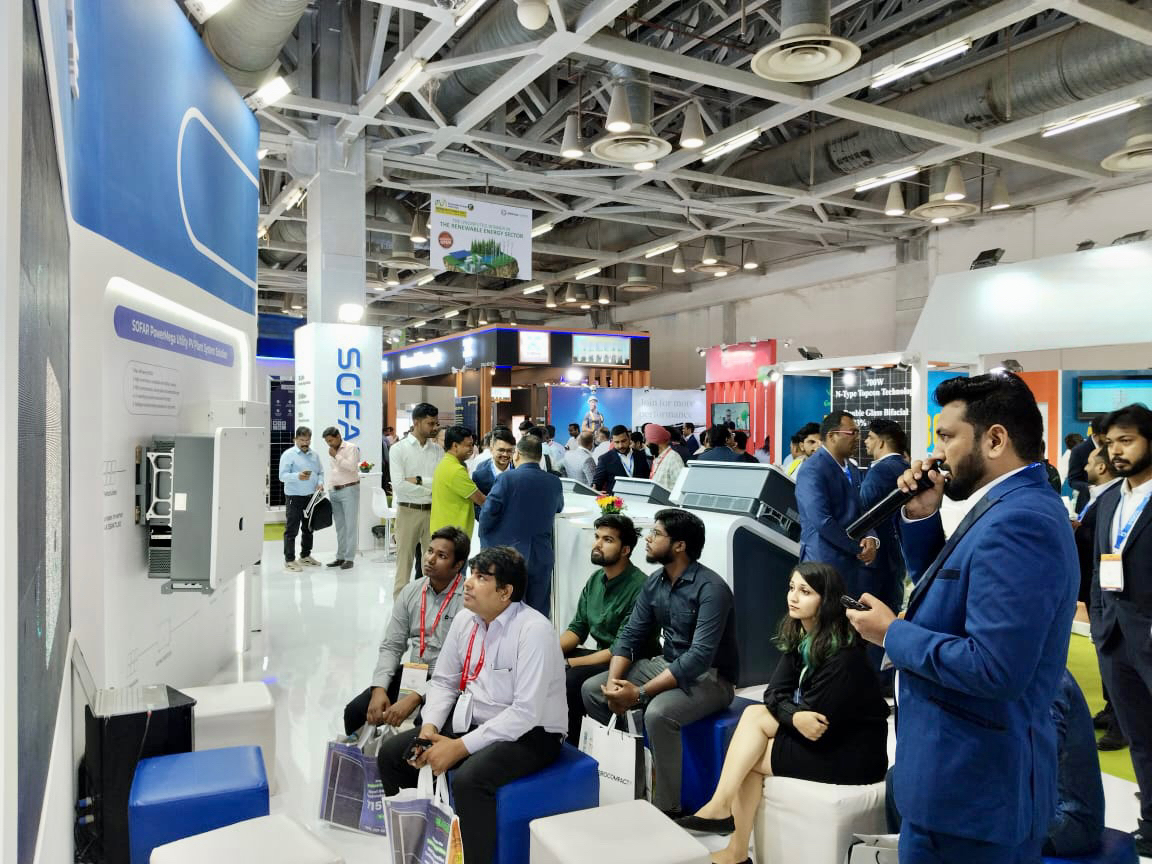 Greater Noida, October 6, 2023 - SOFAR, the global leading provider of all-scenario PV & ESS solutions, draws significant attention by showcasing its industry-leading solar and storage solutions at Renewable Energy India (REI), facilitating the energy structure transformation and the country's renewable energy adoption.
Currently, utility segment contributes to the major growth of the Indian RE industry. Recently, SOFAR forged a 100MW contract of supplying 255KTL-HV utility string inverters for solar plants in Tamil Nadu with Velan Infra. To further expand its influence, the company unveils 350kW inverter PowerMega tailored for utility solar. The inverter made an impressive debut with a seamless integration of profitability, reliability and hassle-free O&M. The inverter characterizes a 1.8 DC/AC ratio and 20A input current per MPPT, with a combability with 182/210mm high-power modules, which ensures lower LCOE and higher yields for customers. Featuring IP66 protection, C5-M anti-corrosion and smart string-level disconnection (SSLD), PowerMega manages to survive harsh environments with a longer service life.
Meanwhile, driven by the optimistic growth outlook in upcoming C&I and small-scale utility installations, SOFAR also introduces its flagship 110K-125KTLX-G4 to the local audience. Catering to the dominant high-power modules technology in the industry, the inverter combines the advantages of 40A*10 MPPTs with ultra-high current, which is expected to enable optimal yields in complex terrains for end-users. In addition, it provides comprehensive protection including AFCI, Type-II SPD and I-V scanning, effectively enhancing system safety and avoiding potential financial loss.
Apart from the latest progress in all-scenario PV portfolio, SOFAR also rolls out its residential ESS solutions with HYD 3000~6000-EP and HYD 5K~20KTL-3PH as the focus, offering the market more competitive and viable options.
"Since we entered India in 2016, we've established a professional office and local service center in Ahmedabad, Gujarat to better serve our customers. Thanks to the experienced team covering sales and technical support, our shipment to India has reached over 2GW by H1 2023," said Jesse Lau, Head of SOFAR APAC and MEA Region, "In the future, we'll keep working together with key partners on technological innovation and service optimization, making SOFAR a competitive brand in the Indian market."
SOFAR is a global leading provider of all-scenario solar and storage solutions and committed to be the leader of digital energy solutions with a comprehensive portfolio, including PV inverters, hybrid inverters, BESS, utility ESS, microinverter system and SOFAR Monitor smart energy management system for residential, C&I and utility applications. By 2021, SOFAR entered the TOP5 Global Hybrid Inverter Brands, establishing a global R&D network with three R&D centers and two manufacturing bases. In 2022, SOFAR annual production capacity reached 10GW for inverters and 1GWh for batteries. By 2022, SOFAR has shipped 18GW+ inverters to 100+ countries and regions worldwide.
Learn more: https://www.sofarsolar.com/