A Look into SOFAR New Smart Factory: When Technology Meets Sustainability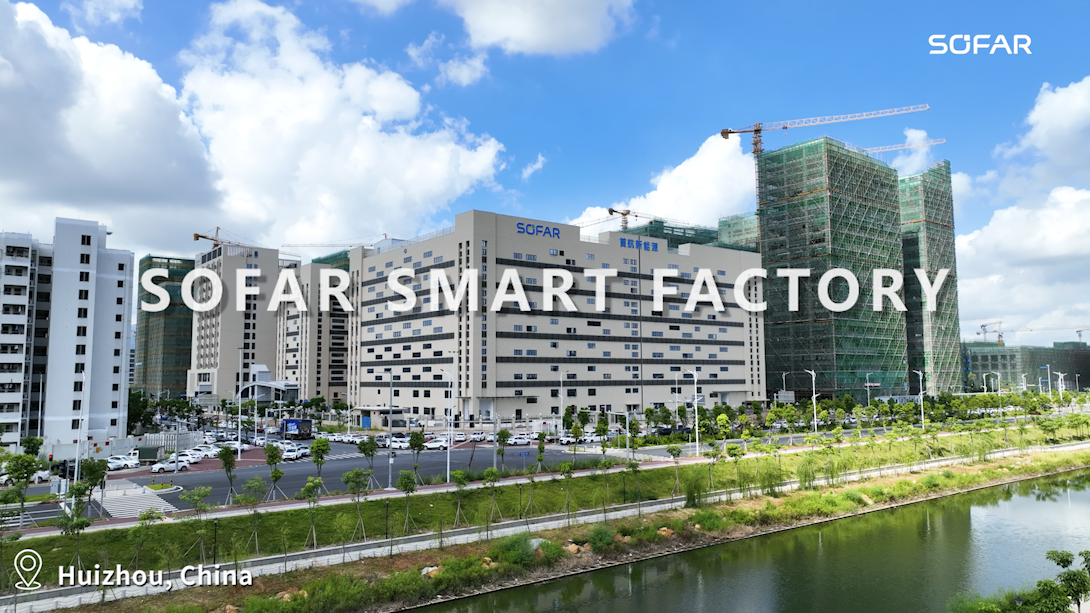 Shenzhen, November 7, 2023 - SOFAR, the global leading provider of PV & ESS solutions, recently commissioned the first phase of its brand-new manufacturing base in Huizhou, China. With this expansion, the company has significantly expanded its production capacity and intensified its focus on intelligent manufacturing practices.
The first phase of new factory spans over 110,000㎡, with a total investment of nearly CNY 800 million. It features state-of-the-art equipment and cutting-edge technology, which allows SOFAR to produce quality solar inverters and energy storage systems at a much faster pace, better meeting the increasing demands for smart energy solutions across the globe. The second phase is expected to be commissioned in 2024. After being put into full operation, the annual manufacturing capacity of solar and storage products is expected to add more than 3 million units, including 2 million grid-connected inverters, 0.6 million hybrid inverters and 0.6 million batteries.
In addition to being a hub for manufacturing, the factory also places great emphasis on automation, realizing an industry-leading automation coverage of 70%. The facility is equipped with automatic three-dimensional warehousing system, using AGV, Water Spider and lift system to deliver parts to production lines. For repetitive and harmful jobs like soldering / greasing / accessory packages, SOFAR has also introduced unmanned production procedures.
To further reduce its carbon footprint, the smart factory incorporates energy-efficient lighting and packaging solutions, with a rooftop area planned for solar installations, which is estimated to generate 1 million kWh clean electricity annually to power the factory operation. Meanwhile, it employs MES, WMS and WCS to achieve digital transformation of production, logistics and warehousing management, gradually facilitating the overall digitalization of manufacturing, supply chain and service.
With the factory expansion, SOFAR is well-positioned to creating many new job opportunities for the local community, fostering local economy growth and promoting sustainable employment in the region. The company also prioritizes employee care and well-being. Apart from providing skilled training to employees throughout all levels of the production process, it offers competitive wages, comprehensive benefits packages, and a supportive work environment that promotes safety, respect and a healthy work-life balance.
"We are proud to open our new smart factory and take a giant leap towards our goal of promoting renewable energy solutions," said RF Yin, SOFAR CEO, "The facility represents the best of modern manufacturing technology and sustainability practices, and it will play a critical role in our efforts to deliver reliable and efficient smart energy solutions to our customers."
About SOFAR
SOFAR is a global leading provider of all-scenario solar and storage solutions and committed to be the leader of digital energy solutions with a comprehensive portfolio, including PV inverters, hybrid inverters, BESS, utility ESS, microinverter system and SOFAR Monitor smart energy management system for residential, C&I and utility applications. By 2021, SOFAR entered the TOP5 Global Hybrid Inverter Brands, establishing a global R&D network with three R&D centers and two manufacturing bases. In 2022, SOFAR annual production capacity reached 10GW for inverters and 1GWh for batteries. By 2022, SOFAR has shipped 18GW+ inverters to 100+ countries and regions worldwide.
Learn more: https://www.sofarsolar.com/