SOFAR Shines at Green Energy Expo 2023 with Its All-scenario Solutions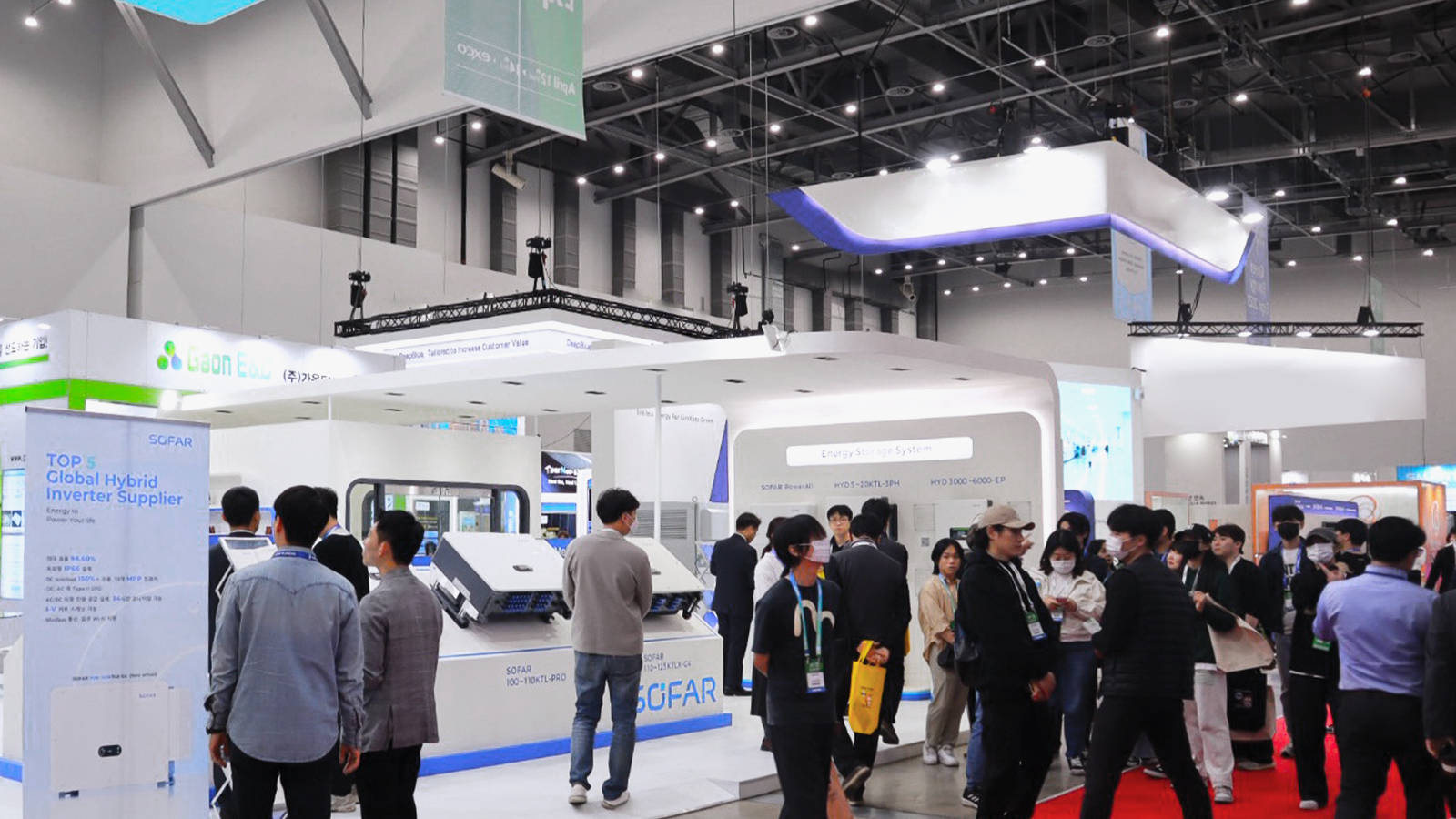 Daegu, Apr. 15, 2023 - SOFAR, the global leading supplier of PV & ESS solutions, demonstrated its state-of-the-art portfolio at Green Energy Expo, boosting efforts to prop up local decarbonization ambitions while solidifying its presence in the Korean solar market.
South Korea has previously announced a 2030 Renewable Energy Plan that aims to increase the proportion of renewables in energy mix to 20% by 2030. To better serve the goal of accelerating local clean transition, SOFAR brought its brand-new 100-125KTL-G4 tailored for C&I and small-scale utility applications. Currently, high power modules are the dominant technology in PV industry. Equipped with 40A*10 MPPTs ultra-high currents, the perfectly compatible inverter is expected to enable optimal yields and lower LCOE in complex terrains for end-uses. Meanwhile, the inverter provides comprehensive protection through AFCI, Type II SPD and I-V curve scanning, effectively enhancing system safety and avoiding potential financial loss.
Driven by the optimistic expectation in upcoming C&I installations, SOFAR also introduced its 60–80kW C&I solution to the audience. Featuring 6 MPPTs with 150% DC overload, the series guarantees an incomparable return of investment while delivering safe and durable power supply. Thanks to IP66-rated protection, its capability to work resiliently under harsh environments makes the series one of the most reliable choices for users seeking stable power supply.
In the context of a steady increase in the near future for both energy storage sections, SOFAR also presents its prime SOFAR PowerAll to the local market.
Bo Dong, Head of SOFAR APAC, recognized SOFAR's achievement locally and shared his insights on Korean renewable energy outlook. "In the last decade, solar power has grown tremendously to become the fastest-growing source of renewable energy, which directly contributes to South Korea's energy independence. Hence, we're proactively strategizing local residential and C&I market with a comprehensive portfolio to satisfy various demands, helping the country to meet rising electricity demands and CO2 emission reduction goals." he added.
About SOFAR
SOFAR is a global leading supplier of solar PV and energy storage solutions and committed to be the leader of digital energy solutions with a comprehensive portfolio, including PV inverters, hybrid inverters, battery storage system, central energy storage and smart energy management solutions for residential, C&I, and utility-scale applications. By 2021, SOFAR entered the TOP5 Global Hybrid Inverter Suppliers, set up a global R&D network with three R&D centers and two manufacturing bases. In 2022, SOFAR annual production capacity reached 10GW for PV & storage inverters and 1GWh for batteries. By the end of 2022, SOFAR has shipped over 18GW inverters to more than 100 countries and regions around the world.
Learn more about SOFAR by visiting: https://www.sofarsolar.com/.