SOFARSOLAR Highlights the Solar Show Africa with New PV and Storage Solutions
23-24th August, SOFARSOLAR, the global leading inverter solution supplier presents its industry-leading PV and storage solutions for residential, C&I and utility-scale plants at the Solar Show Africa.
To address the growing conflict of South Africa's abundant renewable energy resources and rising electricity prices, SOARSOLAR debuts its newly launched "all-in-one" ESS solution SOFAR PowerAll. It uses fully modular and stacked design, enabling it suitable for numerous installation scenarios. The highly integrated lithium battery and energy storage inverter is able to make phased expansion to reduce initial investment cost and optimize customer's investment return. The system is adaptable for various scenarios both in increasing the national uptake of solar and slashing the electricity bills for end users, are the ideal match to the market.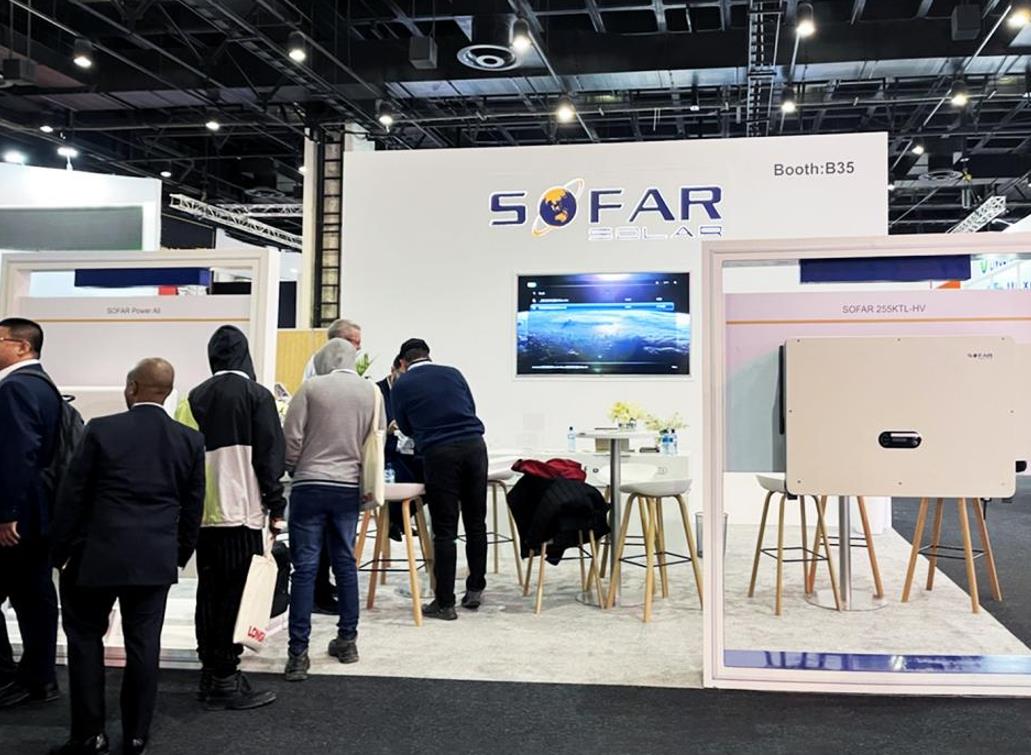 Optimized for residential installations, another SOFARSOLAR solar plus storage solution is introduced at the show, which embodies a 5-20kW hybrid inverter plus BTS series batteries, supporting a capacity of 5~40 kWh for single inverter and 30~240 kWh for 6 inverters in parallel. Given the module design, the solutions feature a flexible extensive capacity and the wide power range that enables flexible configurations for different rooftops.
In addition, SOFARSOLAR showcases the flagship 100-110 kW PV inverter which has the maximum efficiency of 98.75%, and a maximum 10 MPP tracker with 1.5x DC overload. Targeting the rapidly growing utility-scale market in South Africa, SOFARSOLAR presents the 255 kW inverter with 12 MPPTs and a maximum efficiency of 99.02% for 1,500 V applications.
"SOFARSOLAR will continue to strengthen its commitment to provide more cost-effectiveness and reliable power, assisting South Africa in pushing the resolution of the matching problem of power supply and consumption.", said Sonnia Zhou, SOFARSOLAR's country manager of South Africa.
About SOFARSOLAR
SOFARSOLAR is a global leading supplier of solar PV and energy storage solutions. Its comprehensive portfolio includes PV inverters with a power range from 1 kW to 255 kW, hybrid inverters range from 3 kW to 20 kW, battery storage systems and smart energy management solutions for residential, commercial & industrial, and utility-scale applications. SOFARSOLAR has always focused on independent innovation, and now features a global R&D network consisting of three R&D centers, with over 300+ of the company's workforce assigned to R&D. As the world's fastest-growing solar energy brand, SOFARSOLAR's compound annual growth rate reached 86% in 2019–2021 and its annual production capacity reached 10 GW for PV & storage inverters and 1 GWh for batteries in 2021. By the end of 2021, SOFARSOLAR had shipped over 1 million inverters to more than 90 countries. Learn more about SOFARSOLAR by visiting: https://www.sofarsolar.com/.